Regular price
$74,995.95 USD
Regular price
Sale price
$74,995.95 USD
Unit price
per
Sale
Sold out
View full details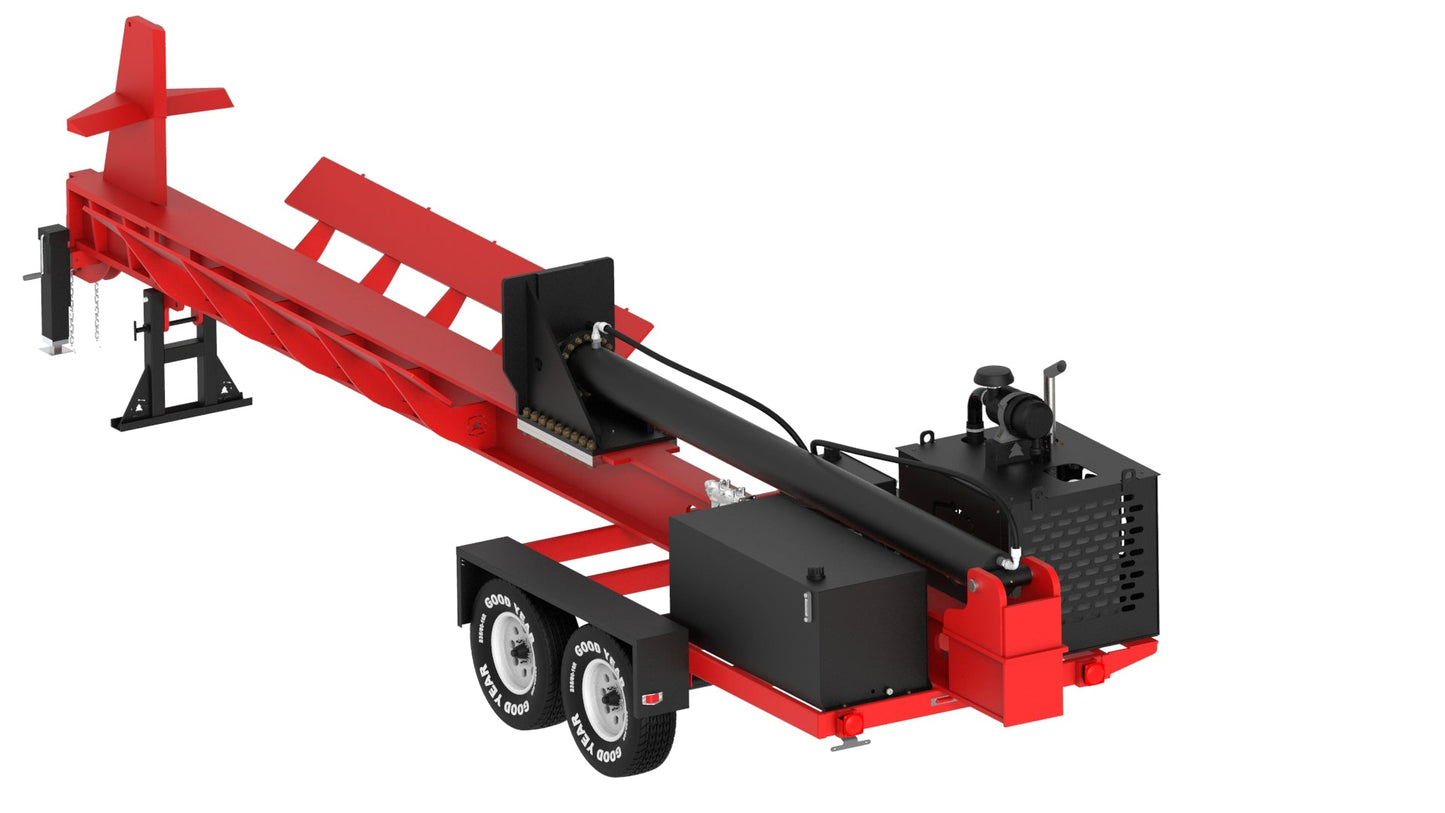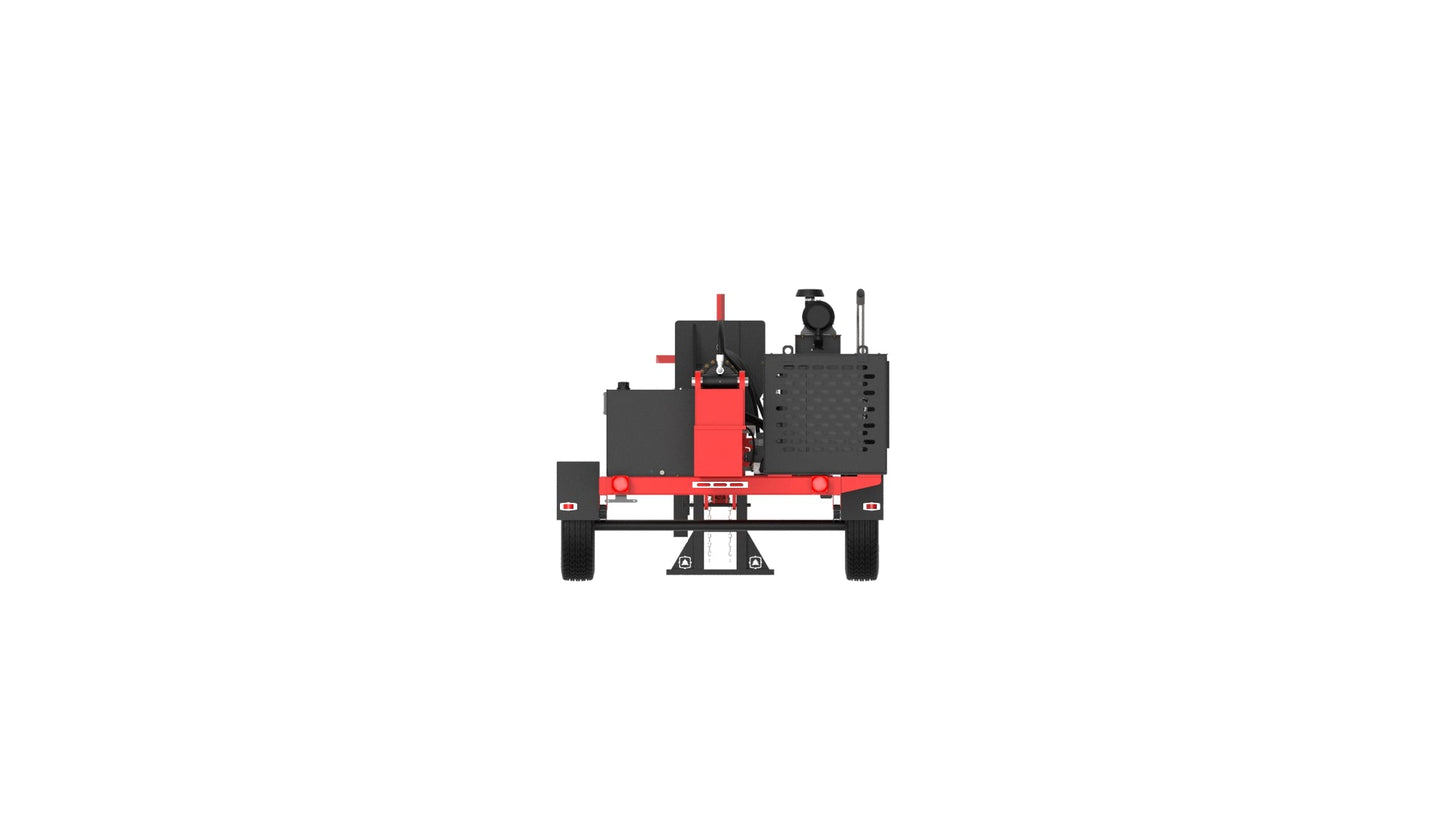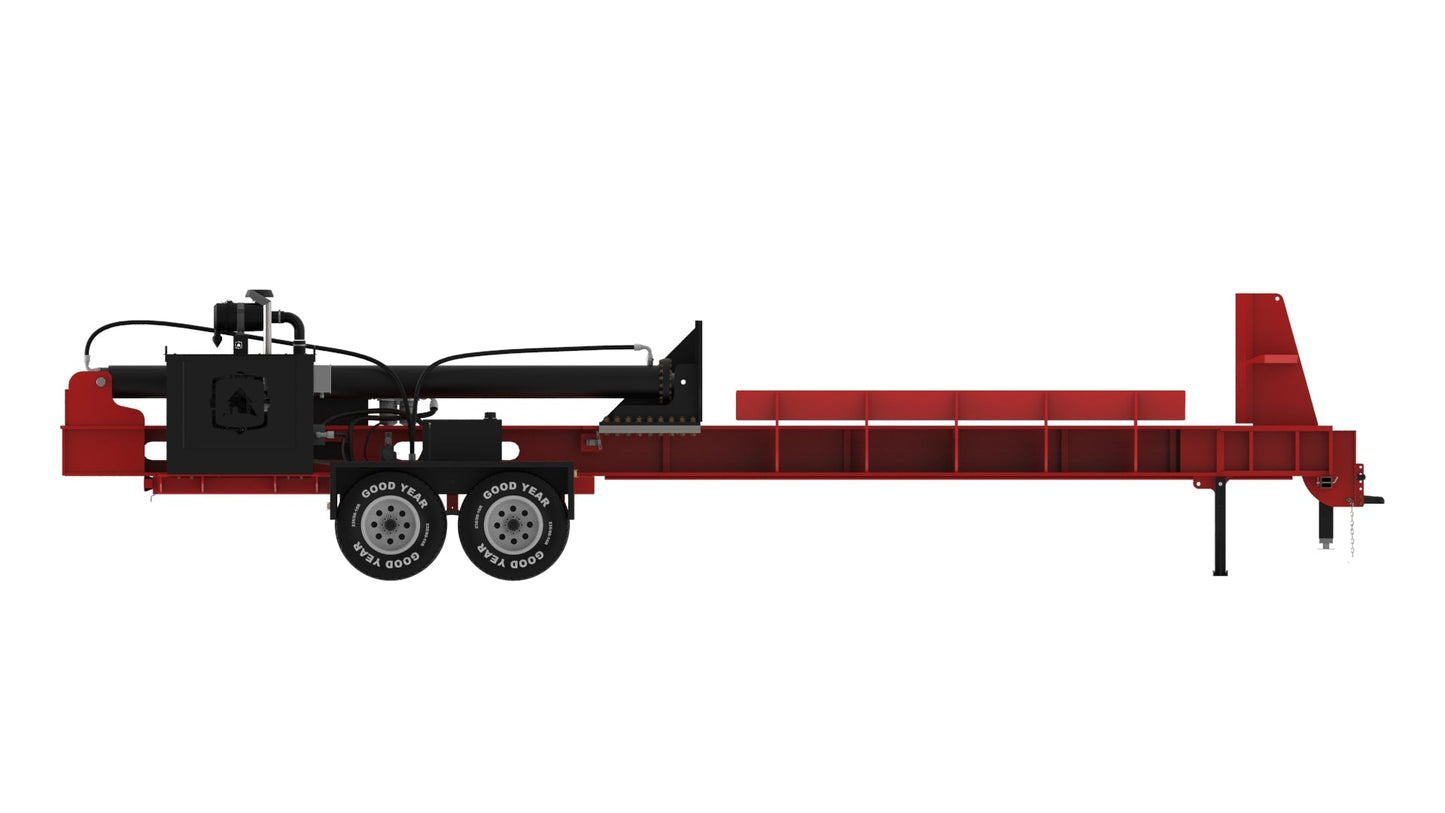 With a 30' long frame, the TW-10 is not your typical log splitter, but this firewood machine isn't made for run-of-the-mill splitting. The lumber processor can handle logs as wide as 5' in diameter and as long as 12', and will split them into quarters that can be fed into a wood chipper or firewood processor.
The diesel log splitter's monster frame is 3" thick all around, so it will be able to handle years worth of large lumber and continue splitting for years to come. The TW-10 log splitter also features dual 7,000-pound axles for maximum stability.
Such a large log splitter needs a lot of power to back it, and that is what we did with the TW-10. It is powered by a 74 HP Hatz diesel engine and uses an 8" cylinder with an 8' stroke, offering 184,000 pounds of splitting force. The diesel log splitter has a pump flow of 33 GPM and is capable of cycling the cylinder every 54 seconds.
All of these specs make up a single quality that the TW-10 log splitter is built around: maximum power.
Best of all, Timberwolf's biggest log splitter is operated by a remote control, so you can split logs from the cab of your truck - but you might want to get a little closer to watch this massive log splitter in action.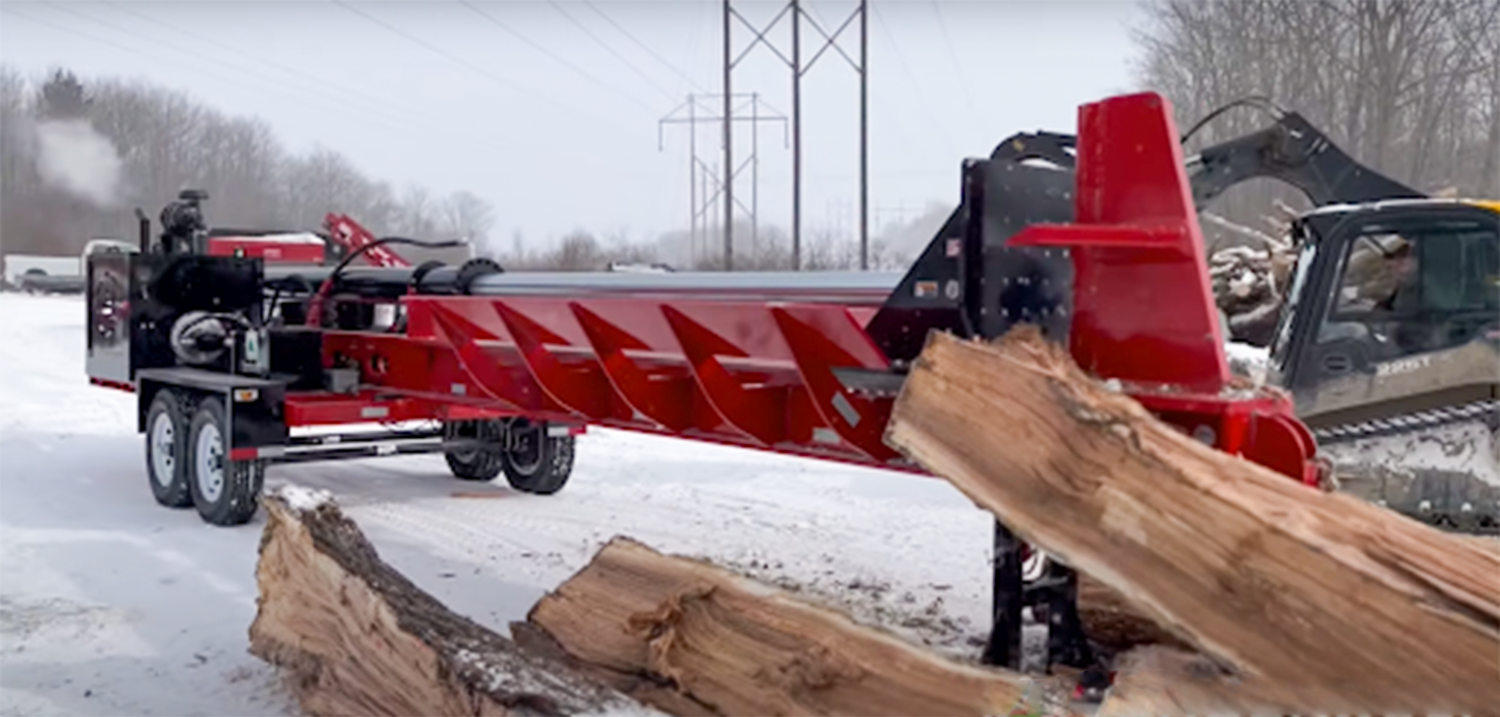 74 HP Diesel Engine
The TW-10 large log splitter is powered by a Hatz Diesel engine for max power and efficiency. The oversized wood splitter can slice through monster logs with little fuel usage. You won't find another large log splitter on the market more power efficient than this beast.
8" Cylinder Hydraulic Power
The TW-10's 8" cylinder allows the push block to split with 184,000 pounds of splitting force, more than enough to split extra large and gnarly logs. The cylinder is capable of cycling every 54 seconds and uses an autocycle.
WATCH VIDEO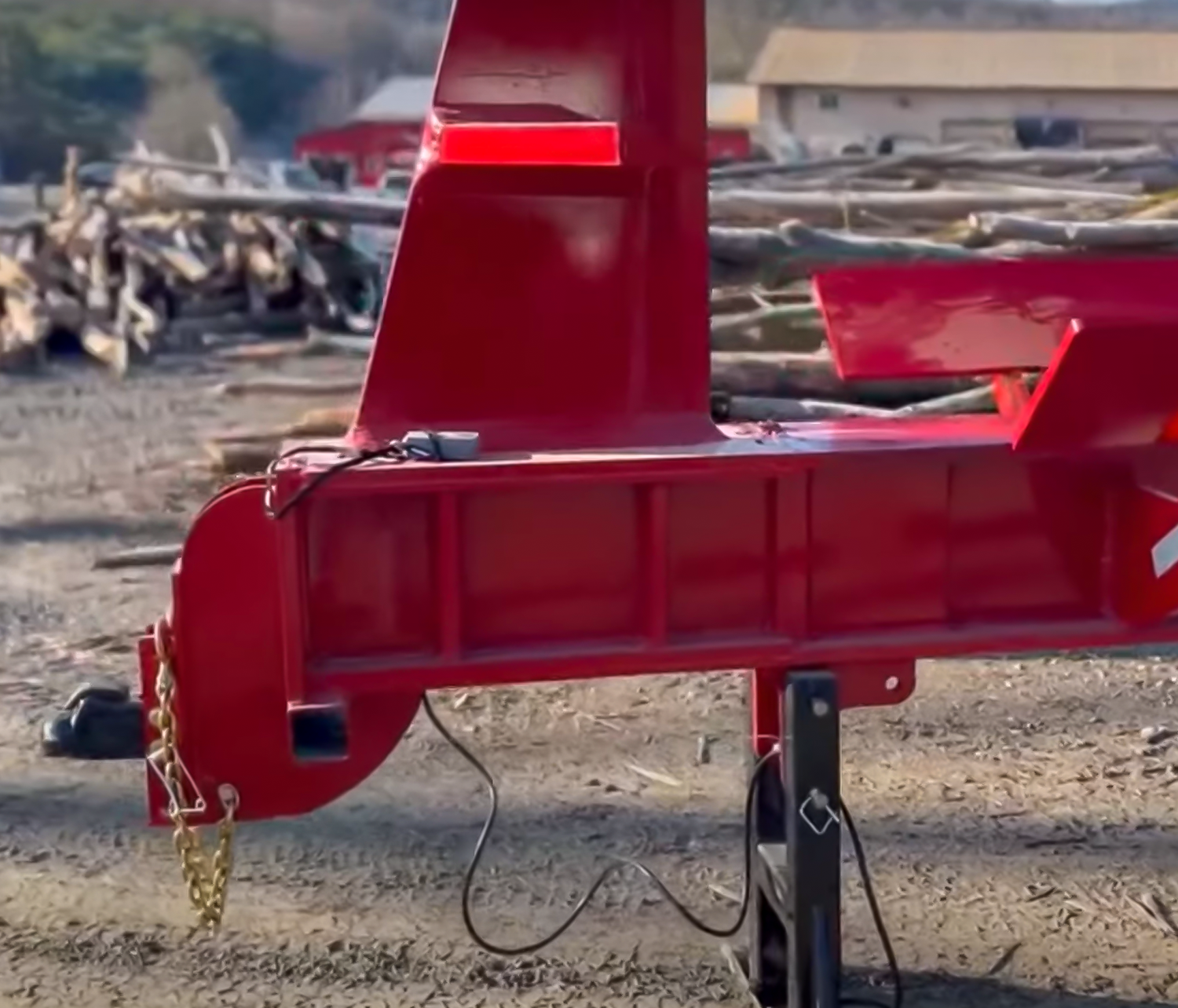 Bring the Job Site to You
The TW-10 monster log splitter is fully transportable, with a ball coupler, safety chains, and a braking system for road travel, so you can bring the wood splitter to the enormous logs, not the other way around.
The ball coupler alone can handle up to 20,000 pounds, which is more than enough for this 13,640-pound commercial log splitter.
A Frame Built to Handle Everything
For a log splitter made to split logs that can't be processed, we had to make everything bigger and better, including the firewood machine's frame.
The TW-10's splitting chamber is 12" deep so the splitter can handle logs wide as 5' in diameter. 3/4" plate steel log cradles secure forward moving logs as the push block drives them along two 1" plates that run through the center of the splitting chamber, with an additional 1" plate on the top and bottom for maximum durability.
The 8" cylinder and engine functions are supported by a 2x5 3/16" wall frame.
Oh, and this all rests on dual 7,000-pound axles.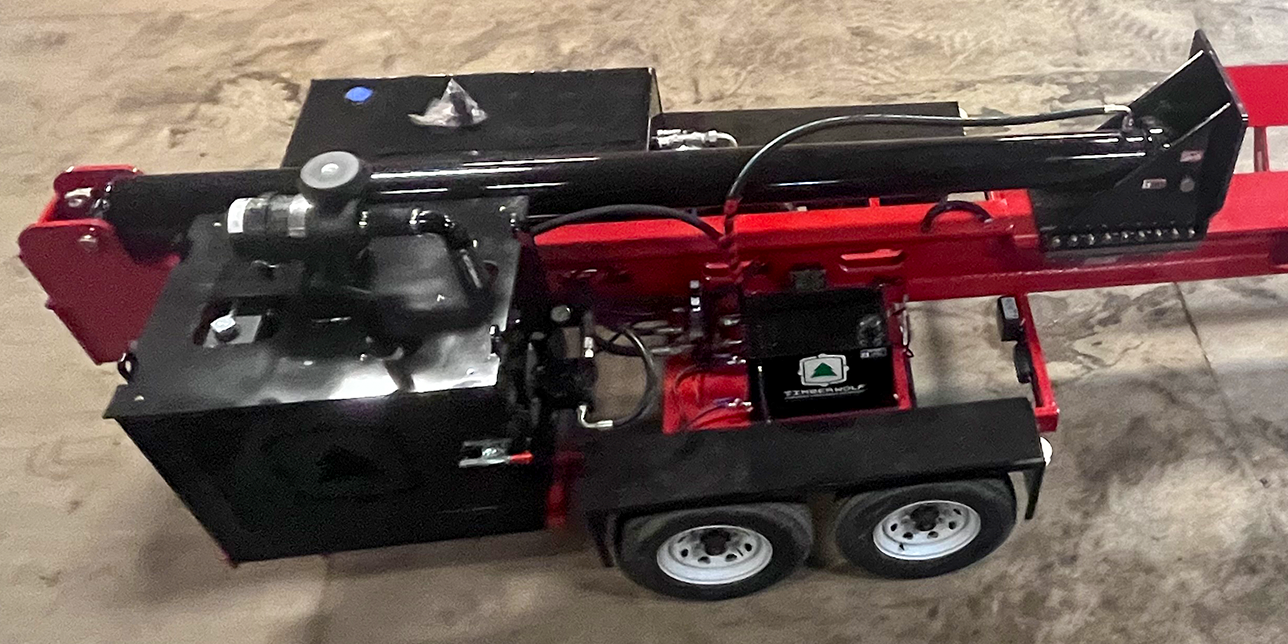 Making Room For Power
To produce the power needed to split 12' long by 5' wide logs, the TW-10's 8" cylinder heats up 30 gallons of hydraulic fluid with a single stroke, which results in 184,000 pounds of splitting force.
So, to ensure the capability of all-day production, the large log splitter is equipped with a 110-gallon hydraulic tank, so the TW-10 can maintain cool and filtered fluid for as long as you need it to.
The TW-10 has a 20-gallon fuel tank and uses 2-2.5 gallons of fuel per hour, which allows operators to run the diesel log splitter for 8-10 hours without breaks in production.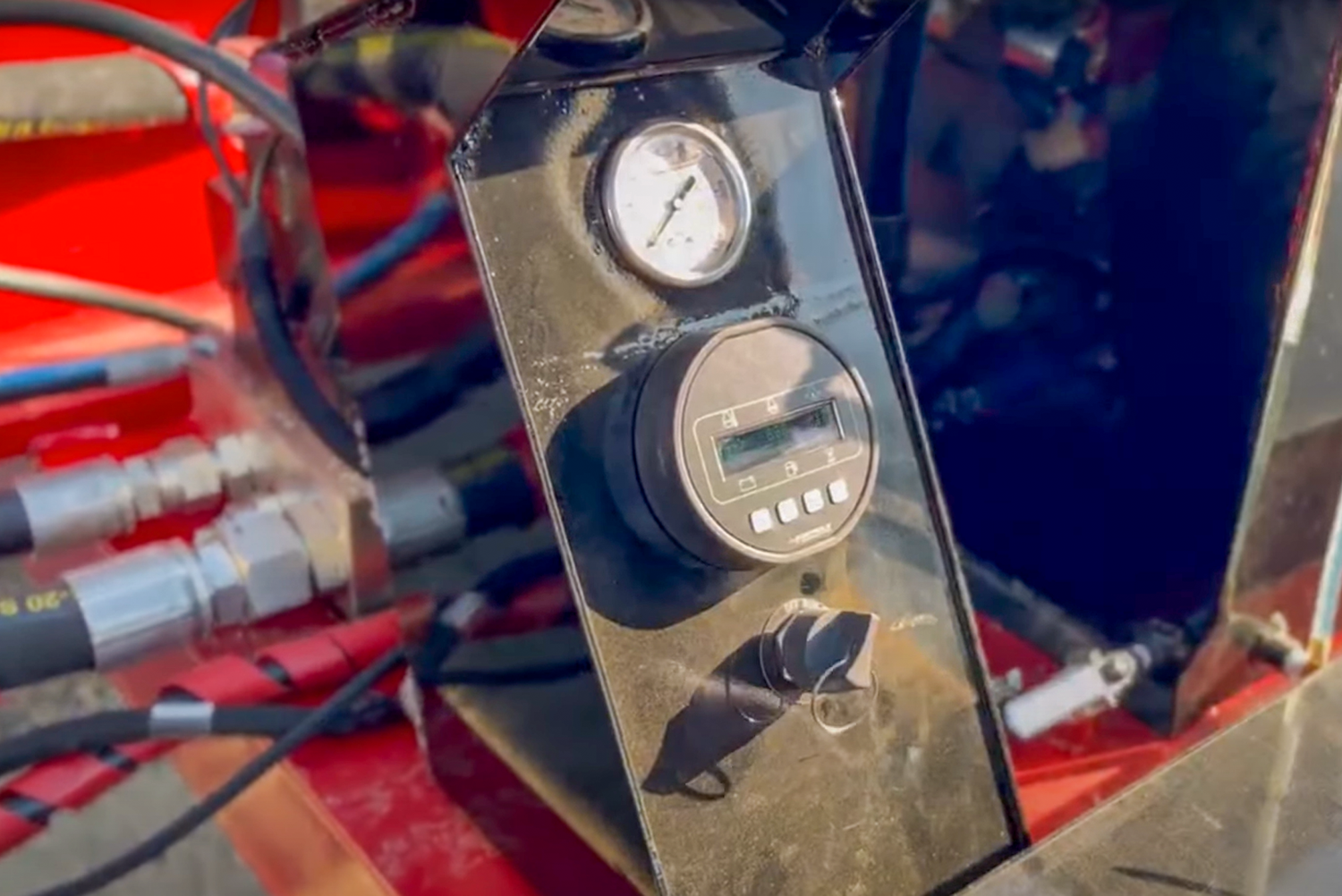 Control Panel and Remote Control Operation
The TW-10's control panel (shown here) is used to turn the firewood machine on and off, and make throttle adjustments. The control panel features a pressure gauge so operators can diagnose any troubles.
Once the large log splitter is turned on, operators can control the push block via remote control. This allows users to operate the remote control log splitter from the comfort of their skid steer cab.